Someone is in trouble for this
Bucs win big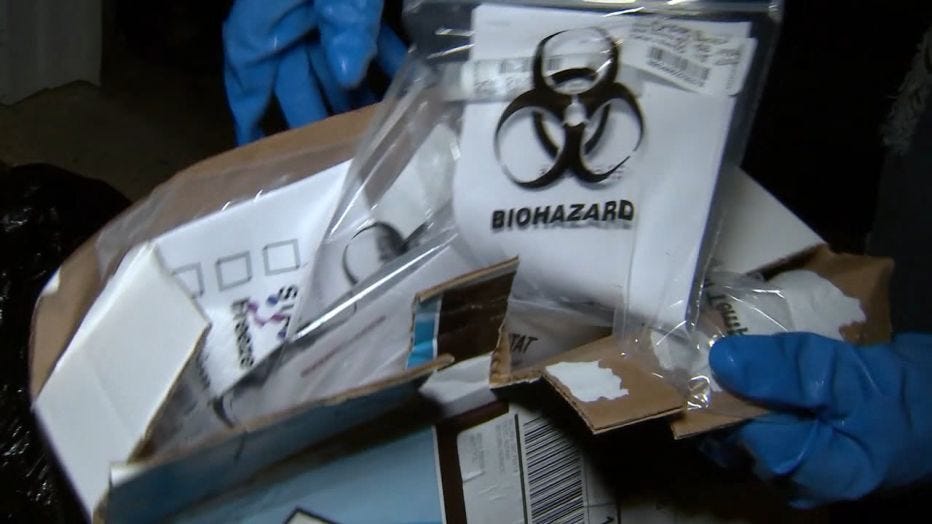 Hillsborough County COVID-19 test samples sent to Maryland family, not DC lab
Confusion over what to do with test samples
A Maryland family is confused and concerned about what to do with a package full of COVID-19 test samples from Hillsborough County that appeared on their doorstep. According to Tia Hunt, a UPS Laboratory Box addressed to her daughter – who recently started a new job in the medical field – arrived over a week ago. The family did not think anything was suspicious about the delivery, until they saw vials marked "biohazard" and COVID-19 tests and samples. The box had multiple shipping labels: two to the family's home and one to Curative lab in Washington, DC. The family called UPS and Hillsborough County Developmental Center in Tampa, which administered the test. So far, no one has collected the samples and no one seems to know what to do.
---
Biden, Trump make last pitches for Presidential race
Both candidates have events in Tampa and surrounding areas
Florida is earning its status as a battleground state since both presidential candidates are scheduling events the week before Election Day. Joe Biden announced he would be in Tampa Thursday, but there is no information on where or what time he will be visiting. He is also stopping in Broward County. Ivanka Trump will be appearing at a rally in Sarasota's Nathan Benderson Park on Tuesday on behalf of her father. Former Florida Attorney General Pam Bondi is also attending the rally.
---
New pedestrian beacons installed on Park Blvd
Pinellas Park police plan to educate, inform drivers
Drivers on Park Boulevard might be confused about the new pedestrian beacons installed on the road, but Pinellas Park police plan to change that. The beacons, which allow pedestrians to cross the street mid-block, are between 49th Street and 66th Street. Pinellas Park police said they plan to stop cars and people who violate the new signals to inform them about their purpose and how they work. The pedestrian beacons are supposed to reduce the number of crashes involving pedestrians.
---
Tampa Alcohol Coalition urges safety when drinking
Warnings come after several fatal DUI crashes in Tampa Bay area
After an increase in fatal DUI crashes around Tampa Bay, the Tampa Alcohol Coalition is urging people to stay safe when drinking. The coalition's Chair Ellen Snelling believes fatigue from the pandemic, excitement from the Rays being in the World Series, and the upcoming Halloween festivities may be contributing to an increase in drinking. The coalition is urging people to have a plan to get home safely if they plan to drink.
---
Buccaneers win again
Final score is a 25 point win over the Raiders
The Tampa Bay Buccaneers had a big victory over the Green Bay Packers last week, and they kept their streak with a 45-20 win over the Las Vegas Raiders Sunday night. Tom Brady arguably led the team to victory as he completed 33 of 45 passes for 369 yards, four touchdowns, and he rushed for another score. Chris Godwin caught 9 passes, Rob Gronkowski caught five passes, and Leonard Fournette caught six. The Buccaneers will face the New York Giants on Nov. 2.