Inmate falls through the ceiling as she attempts prison escape
Governor: Florida to enter phase 3 of coronavirus reopening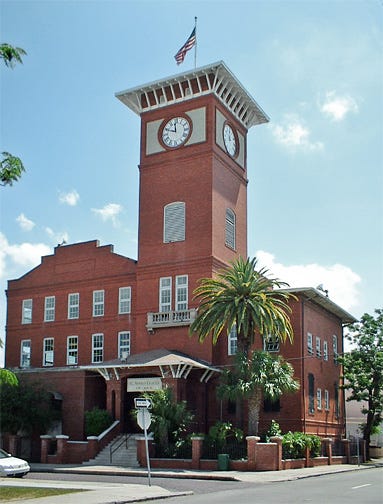 Historic Ybor clock bells to chime once again
The clock tower was most recently shut down in 2019 while undergoing restoration
Built by El Regensburg & Sons Cigar Company, the clock tower––known as "El Reloj" to locals––has alerted the town of the time on and off for over a century. Now, the clock is being restored to its former glory by J.C. Newman Cigar Company. As local lore tells it, if you make a wish at 9:15 AM while looking at "El Reloj", your wish will come true. According to the clock's owner, Craig Newman, restoring the clock will ultimately cost around $400,000. Expect to hear the bell's tolling come November.
---
Governor: Florida to enter phase 3 of coronavirus reopening
Restaurants will now be able to operate at full capacity
Yesterday, Governor Ron DeSantis held a press conference to announce that all of Florida will be transitioning into phase 3 of reopening. Now restaurants and bars will be able to serve guests at full capacity. DeSantis made a point of mentioning that his executive order trumps any local ordinance barring a restaurant from fully opening. So, as of today, you might start seeing more of your favorite spots packed with locals tired of their own home cooking.
---
Anyone lose their cockatiel?
Tampa airport is looking for the owner of a cockatiel found on taxiway
While inspecting the airfield this week, Taylor Merk came across a mohawked bird unable to fly away due to blustering winds. It turned out to be a cockatiel, most likely someone's lost pet. Now the airport is on a mission to reunite the lost bird with his owner. In the meantime, another airport staff is fostering the bird, who has now been named Echo.
---
Hillsborough Commission to sue Mercedes-Benz over pollution concerns
The carmaker was caught cheating on emissions tests
Last week multiple federal agencies announced a $1.5 billion settlement with the owners of Mercedes-Benz after it was revealed that the company had been manipulating its emissions software in diesel engines. According to the civil complaints, the software allowed diesel vehicles to comply with emission standards when undergoing testing. Yet, under normal circumstances, the engines produced emissions well above federal standards. Now the Hillsborough Commission is set to sue the carmaker for polluting the county on a local level.
---
Inmate's escape crippled by jail's weak ceilings
An inmate at Orient Road Jail fell through the ceiling as she attempted to escape
Shelby Hartley was worming her way through a crawlspace at Orient Road Jail when the bottom gave out, and she fell through the ceiling. Hartley, an inmate at the jail, admitted to the prison breakout, saying, "I was trying to get out. I was trying to get away." According to jail officials, Hartley was taken to the hospital after sustaining injuries from her fall and will be charged with failure to remain within the limits of confinement.