Historic Bayport Pier reopens Thursday
Rare baby rhino born at ZooTampa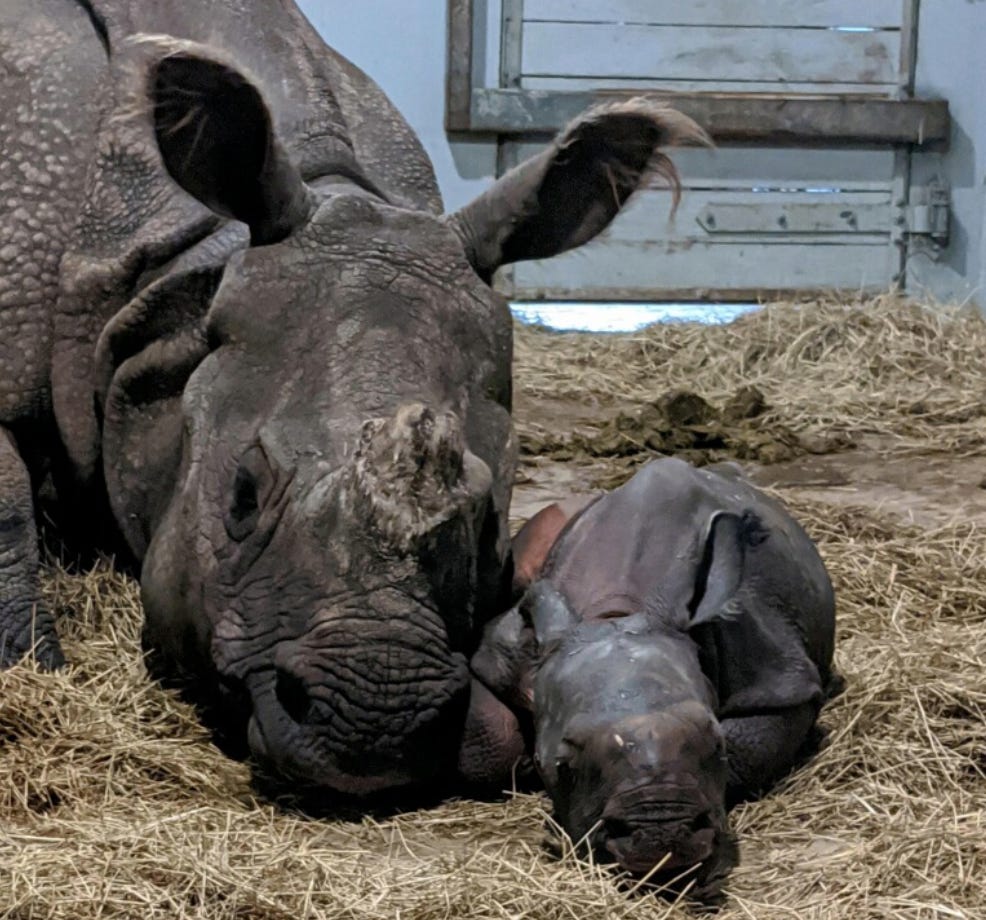 Baby rhino born at ZooTampa
The new Indian Rhino is one of only a few thousand in the world
TampaZoo announced yesterday that two Indian Rhinos, Jamie and Johnny, welcomed a male calf into their family. The current number of Indian Rhinos, which used to roam all over the northern part of India, is under 4,000. The zoo wrote in a Twitter post, "This will be Jamie's fourth calf and Johnny's first making this newborn incredibly important to the Species Survival Plan and future conservation to this vulnerable species." Read more here.
---
Historic Bayport Pier reopens on Thursday
The pier was destroyed back in 2016 by Hurricane Hermine
Built at the sight of several Civil War naval battles, Bayport Pier will once again be open to the public. Hernando County spent over $900,000 to repair the pier that was damaged heavily after Hurricane Hermine. In 1863, a major battle between Union ships based in Tampa and Confederate boats out of Bayport broke out in the nearby waters. According to officials, the pier will officially reopen at 10:30 AM.
---
Two Tampa schools receive unlimited supply of disinfectant from local company
Until the pandemic passes, the schools will receive as much disinfectant as they need
Over the weekend, Servpro, a local restoration company, donated over 200 gallons of disinfectant to Hillsborough High School and Lockhart Elementary School. Since the school year began, administrators have scrambled to provide all the necessary supplies to keep their students safe. One of the major ways to prevent the spread of the virus is to disinfect desks, chairs and classrooms, according to the Florida Department of Health. Now Hillsborough and Lockhart are set until the pandemic is over.
---
Buccaneers wide-receiver will not play today against Panthers
Chris Goodwin suffered a concussion last week against the Saints
Chris Goodwin did not clear his concussion protocol taken on Saturday. Last Sunday, Goodwin took a hard hit to the helmet from Saints' D.J. Swearinger that resulted in a penalty. Goodwin was seen at practice on Friday, catching passes and stretching––a sign that he might be eligible to play against the Carolina Panthers. However, Buccaneers Coach Bruce Arians confirmed that Goodwin will be sitting on the sidelines for the game today.
---
Ashes found at thrift store returned to family members
Family members claim ashes after Bay News 9 report
Earlier this week, Anes Jones––who was shopping at St. Vincent's thrift store––came upon a container of ashes. Jones quickly turned to the media to help her find the rightful owner of the container. Shortly after a Bay News 9 report, Frances Kluxen came forward to say that those were her uncle's ashes. Kluxen said that her aunt had died back in 2015, and her home had been evicted. She hadn't seen her uncle's ashes since. After receiving the container of ashes at the thrift store, Kluxen said, "I feel like I'm bringing my uncle home." Click here to read more.