BLM and Trump supporters confront each other in St. Petersburg
Bobby Bowden tests positive for COVID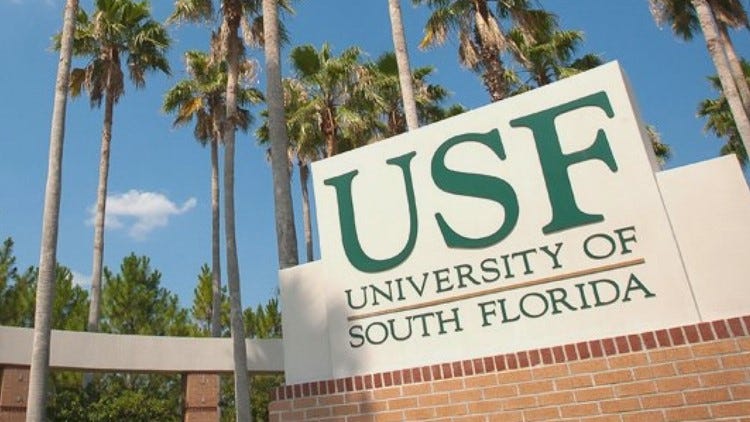 USF moves Spring Break
University hopes to reduce spread of coronavirus
The University of South Florida has announced that its Spring Break, which was originally scheduled for Mar. 15-21, has been pushed back to Apr. 12-18. The school is hoping to reduce the likelihood of staff and students' exposure to coronavirus due to travel and vacationing. The university also claims that pushing Spring Break back will allow the school to finish up instruction and final exams virtually.
---
Protesters meet in St. Petersburg on Saturday
Black Lives Matter demonstrators and Trump and police supporters rallied on the same evening
The divide between protestors was literal Saturday evening, when two groups that supported opposite causes held protests on the same evening. A group that is aligned with the Black Lives Matter movement organized a "Rally Against Hate" and a "Vigil for Justice" in South Straub Park. Speakers and chants called for justice for Breonna Taylor and changes in the Black community in the city. The group also marched, but they marched in silence to decrease the chance of an altercation. Protesters supporting President Donald Trump and the police as part of Blue Thunder and Take Back Downtown St. Pete also were demonstrating downtown. The group verbally denounced white supremacy and burnt a Nazi flag. The groups met a few times throughout the evening, but police stood between them to prevent confrontation.
---
Former Florida State football coach Bobby Bowden tests positive for COVID-19
Coach claims household will test again Monday
Bobby Bowden, the former head coach who led the Seminoles of Florida State University for 34 years, has tested positive for the coronavirus. Bowden, who is 90-years-old, said he was doing well despite the diagnosis, and also mentioned that the members of his household will be tested again on Monday. Bowden reportedly does not know when he contracted the virus. From 1987 to 2000, the Seminoles finished in the top 5 of the Associated Press College Football Poll and finished every season with at least 10 wins. They also won the national championship in 1993 and 1999.
---
Regal cinemas to close hundreds of theaters, some in Tampa Bay
Company cites lack of new releases and financial instability as reasons
Cineworld Group Plc announced that 536 Regal cinemas in the United States and 127 Cineworld and Picturehouse theaters in the U.K. would close on Thursday, affecting around 45,000 employees. The company, which has struggled with the pandemic's effect on finances, has high debts. The company said that movie studios have not wanted to release films due to the lack of customers. Regal theaters in Tampa, Crystal River, Richey, Port Charlotte, Inverness, Sarasota, Largo, Bradenton, and Pinellas Park will be affected by the closures.
---
St. Petersburg reopens more
Libraries, gyms, private events get green light
St. Petersburg was a busy place Monday as city facilities were allowed to reopen. Libraries are one of the facilities allowed to open their doors to the public, but there are strict guidelines in place for visitors. There is a 45-minute time slot to browse, check out books, and use the computers inside the libraries. The library will also utilize curbside pick up. Recreation centers such as gyms and fitness centers are also able to reopen, and rec room rentals were available for the community too. Private events can also request to host events on city property, as long as they comply with CDC guidelines and recommendations. Classes at recreation centers, along with programs, meeting rooms, and children's playgrounds at libraries will remain closed. Guests also still need to wear a mask and follow CDC guidelines.